Need New or Used Tires & Rims Due To Huge Winter Potholes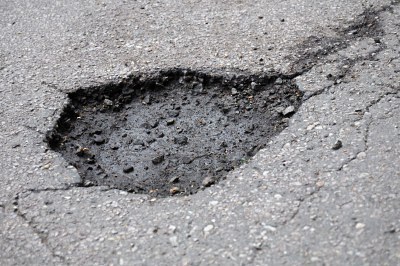 The winter time puts drivers at more of a risk of bending and damaging their rims, then at other times. Why is this the case? The reason is pretty simple, we all know how roadways react to cold and hot, contraction and expansion right? So if you factor this into the equation, then you see that NYC potholes that have been repaired before are more likely to go through more stress then a solid piece of roadway.
This will cause the old pot hole filling to become loose, the you have the snowplows and salt spreaders will be shaking up what ever is left in that pot hole, but the real danger and damages to the rims and tires come when that pothole looks full of snow like part of the roadway.
You Don't need to worry if you have a truck that looks like the one in the photo below
The problem is that pothole might be hollow and deep, and when you come through all snow blinded you hit hard causing the rim to bend and the tire to blow. If the tire is blown off the rim and can be added to a new or used rims that you buy to replace the tire and rim you damaged in the snow on the pothole.
Then there is the ice we spin the tires on, that cut the tires and weaken them to the point they will slice open and blow like the NYC Snowplow Video Below spinning it's tires. NYC Auto Salvage has used Rim and tires for sale just call 1718-297-9797 tell Vinny Johnny Blogs sent you for a social media discount.
NYC Snowplow Video Below spinning it's tires